Keller Williams, commonly known as KW, is the world's largest real estate franchising company and is headquartered in the USA (Austin, Texas).
In addition to the USA and Canada, KW provides consultancy and real estate brokerage services for the residential and commercial market, in 56 countries or regions, among which KW Portugal stands out.
Keller Williams, who are we?
KW was founded in 1983 by Gary Keller and Joe Williams and currently develops its activity on 5 continents, with more than 190,000 employees , spread over more than 1,100 Market Centers. It is the brand with the largest number of real estate consultants in North America and in Portugal it has reached the 3rd position in the national ranking, in just 5 years (more than 2,600 real estate consultants).
The existence of a corporate culture of its own, actively promoted in local and national retreats (eg the Family Reunion), where the Keller Williams vision is discussed and where the experiences of consultants from around the world are shared, has a strong impact. in brand activity.
Keller Williams in numbers
KW is not just about earnings, systems or strategies, although the numbers associated with its growth are impressive: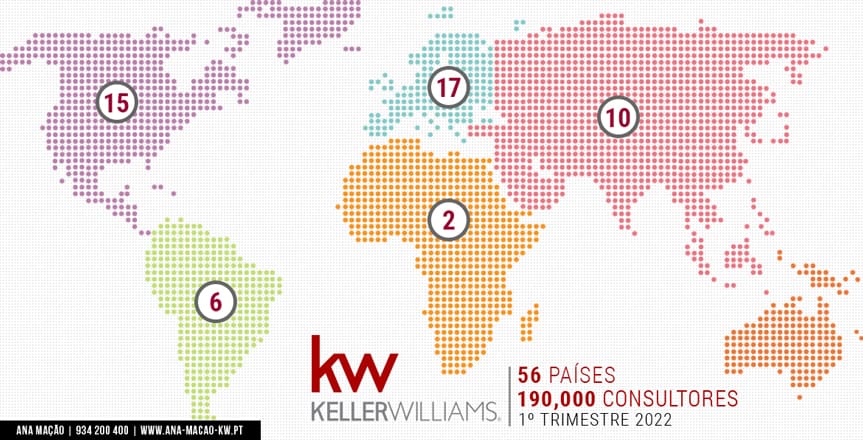 KW's numbers are a good example of its spectacular growth:
KW is the real estate franchising brand with the largest number of consultants in the world ! At the end of Q1 2022, Keller Williams had a total of 190,000 associates worldwide;
In the 1st quarter of 2022, Keller Williams closed real estate transactions totaling €129.4 billion in sales volume (8.75% more than in the same period in 2021);
99% of franchisees (known as Market Centers) reported profits;
In 2022, KW continued to grow outside the North American continent and already operates in 56 regions, on 5 continents, totaling 15,700 real estate consultants. Além de Portugal a KW está ativa na África do Sul; Albânia; Arábia Saudita; Argentina; Aruba; Bélgica; Belize; Bermudas; Brasil; Camboja; Canadá; Chile; Colômbia; Costa Rica; Chipre; República Checa; República Dominicana; Dubai, Emirados Árabes Unidos; Eslovênia; Espanha; Estados Unidos da América; França; Grécia; Guiana; Honduras; Indonésia; Irlanda; Israel; Itália; Jamaica; Japão; Luxemburgo; Malásia; México; Mônaco; Mongólia; Marrocos; Nicarágua; Norte do Chipre; Panamá; Paraguai; Peru; Filipinas; Polônia; Portugal; Porto Rico; Romênia; Sérvia; São Martinho; Suriname; Tailândia; Peru; Turcos e Caicos; Reino Unido; Uruguai e Vietnam.
Valores e Missão
Para a Keller Williams o negócio tem que estar subordinado a uma escala de valores. Ou seja, trabalhar na KW tem um impacto nas nossas vidas que justifica uma cultura organizacional diferente. Para ajudar a cimentar esta visão a KW resume através do sistema W14C2TS as principais linhas de atuação:

Win-Win : or there is no deal. Keller Williams' goals are to get involved in the sale of real estate, not limiting the benefit to just one of the parties, but to everyone involved in the transaction. As we say in good Portuguese: "a deal is only good if both parties win".
Integrity : doing what is right. As a real estate consultant, I am in this activity to help those who use my services, the only way to do so without compromising my career is to act in an integral and honest way in all transactions where I am involved.
Commitment : valid for everything. When I propose to sell a property, my client knows that my commitment is until the end, I don't look at means to achieve that end. And that's why business at Keller Williams builds relationships that last.
Communication : Always try to understand the other side. The world is bigger than one person's vision.Communicating and understanding the goals and desires of my clients contributes to achieving the desired success.
Creativity : first the ideas, then the results. Why follow old and outdated business models when there are new, innovative and proven ones that work? In my activity I bet on new or original ideas that help me achieve success.
Customers : are always first. This is not a "property or capital accumulation" business. The real estate industry is definitely a business that moves people and lives off of people.
Trust : starts with honesty. There is not enough room in the world for lies. Honesty will weather any storm. This is a fundamental philosophy that accompanies me in each and every part of my life.
Teamwork : together we do more. When we join Keller Williams, you don't have to walk alone.There are many people who can help us along the way, "brokers", "team leaders", "colleagues"... together we form a great team!
Success : obtained through the importance given to "people". They are the people who in our lives and companies contribute to our success. To achieve excellence, we have to surround ourselves with the best, and that's exactly what awaits us at Keller Williams.
The services
Keller Williams' activity is focused on real estate brokerage services, relying on the high professionalism of its consultants, who are grouped in large Market Centers in order to optimize and maximize the support and training that is dedicated to them. Although the residential market is the main focus of its consultants, the commercial and industrial areas are also part of the mediation activity that KW Portugal develops throughout the country.
But today KW has taken the leap to become a technological company that invests like no other in technology, with the aim of contributing to making a difference for its consultants and providing a better service to its customers by improving their productivity.
Keller Williams works on an exclusive basis and, contrary to what is often thought, this is one of the reasons for its success. Only through a strong and personalized investment in each property by our associates is it possible to make a difference. If in doubt, read my article about Exclusivity and its advantages.
work at KW
As one of the fastest growing real estate brands in the world, it is not difficult to see why when we look at the remuneration policy and support that Market Centers dedicate to their associates. At KW, the consultant benefits from the highest commissions paid in the real estate sector , a reward program for brand growth ( Growth Shared Initiative ), training support, legal support , one of the most awarded technological development programs, in order to facilitate their work and improve their productivity, but above all: a professional environment that encourages relationships between consultants, with the society in which they operate and respect for each person's family life .
Keller Williams was one of the first companies to change the paradigm of the real estate industry, focusing its activity on the consultant instead of the business network that supports it, as was traditional until the emergence of KW. This was a decisive change to attract the best professionals in the field and those with the best skills to perform this activity.
For KW, each consultant is an entrepreneur who manages his property portfolio and his professional activity as if it were a company , but in which the support of the brand is felt at all times of his career. KW's models and systems are designed to allow the sustained growth of your career, from the first stage as a consultant, to the moment when your growth may require growth in the team model.
If you're in this spirit and aren't afraid to face a challenge that could change your life, learn more about the career change that changed my life and that of over 190,000 colleagues around the world!
Check my page: https://ana-macao-kw.pt/en/working-at-kw-keller-williams