To be successful in today's global real estate market, it is imperative to be at the forefront of marketing and technology because, at KW - Keller Williams, the customer is always first. We lead the way in the real estate sector with tools developed to measure, which improve commercial efficiency and guarantee increased productivity. Our goal is to establish a global communication network in order to streamline and accelerate the circulation of information between KW - Keller Williams' network of consultants and our customers and potential buyers.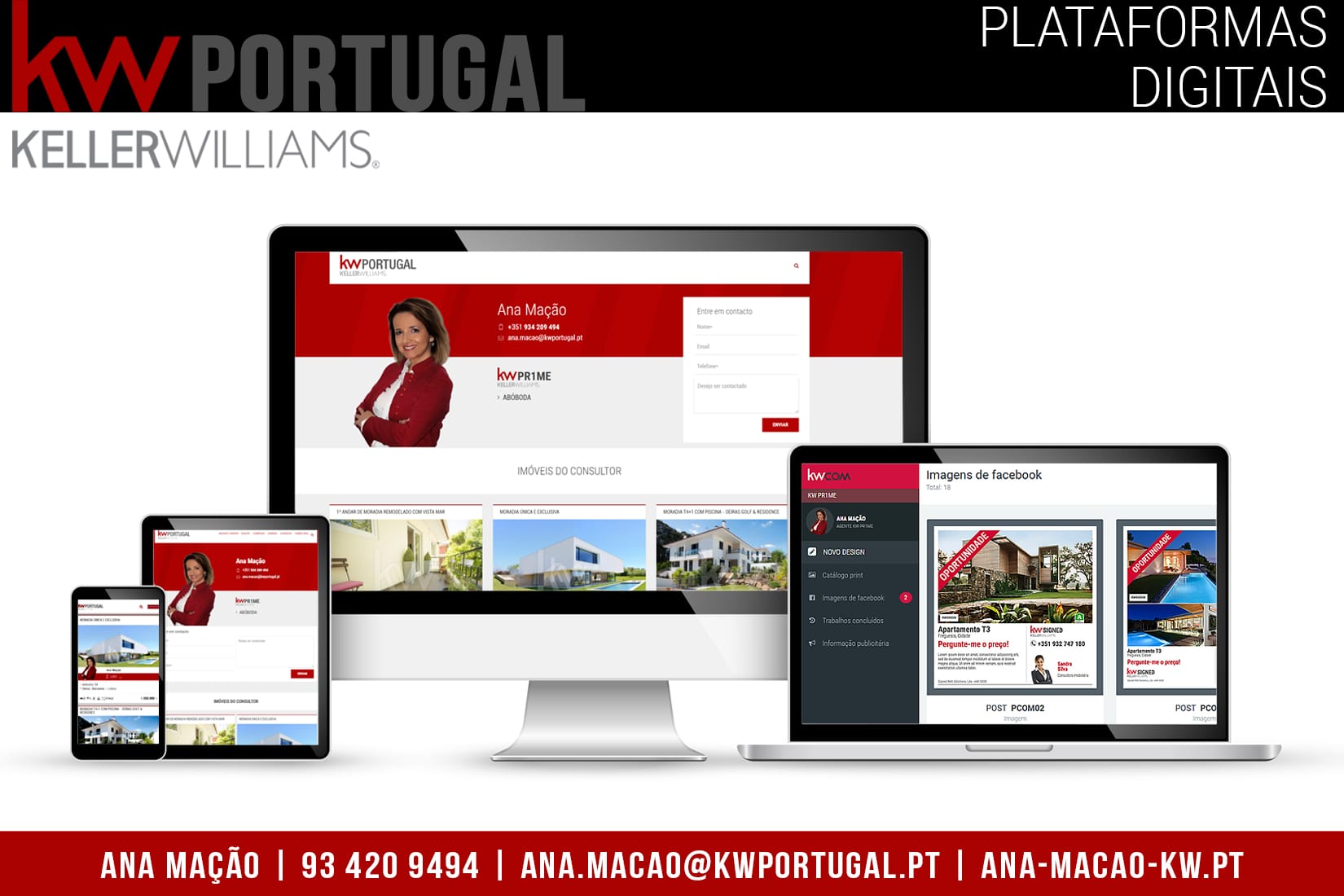 The local websites of the consultants (including mine: http://ana-macao-kw.pt/en ), websites of the Market Centers, networks of advertising sites, applications for smartphones, international sites, etc. in a total of more than 100,000 sites , they contribute to a global lead generation network, whose presence and power in online surveys make a difference to our competitors.
We aim to choose the web as our main source of attracting consumers looking for real estate online, in an increasingly global market.
The Keller Williams real estate listing system, or KWLS , allows you to generate reliable, updated and replicated listings around the world. KWLS guarantees that our associates and consultants keep track of their data in the listings and are able to remove maximum exposure for their online ads.
Digital marketing at Keller Williams - Portugal
At Keller Williams Portugal, despite its recent implementation (2014), betting on digital platforms is naturally one of our priorities. Thus, 2016 saw the emergence of some novelties that fulfill the brand's designs and that deserve our applause:
A new CRM platform
This is a project developed in partnership with the Portuguese company Signed and which consists of a new work tool, more user-friendly, aimed at more than 24 Market Centers and over 1900 members of KW Portugal. This will significantly improve the efficiency, productivity and communication of your work within the brand's internal network. This tool also represents a step forward in independence from the American management system, with a view to better adapting to the national reality.This tool is expected to be exported to our Spanish counterpart.
According to Nuno Ascensão and Eduardo Garcia e Costa, Regional Owners of Keller Williams:
CRM was built with the know-how of one of the largest mediation companies in Portugal and with the inputs of its real estate consultants, who are the main users and is distinguished from the American model for its 'user-friendly' character and for being a single system and not multiple systems. It incorporates the latest technology in order to allow faster use.

Tools KW intends to be a tool that manages the real estate agent's activities from A to Z so that he can make the most of his added value. Above all, this new system allows you to measure everything that happens in the business.
New website KW Portugal
A new website was recently launched in June 2016 that, according to those responsible for Keller Williams Portugal:
"The new website www.kwportugal.pt is structured to speed up the consultation of the entire KW Portugal offer, being easy to access and navigate, both for customers and consultants. The CRM was built according to the real estate agents of KW Portugal and is distinguished from the American model for its 'user-friendly' character and for being a single system and not several systems. It incorporates the latest technology in order to allow faster use "
Watch a video from Keller Williams Portugal presenting the new platforms ( click on the image below ):