Congratulations to KW Portugal ! Keller Williams continues to surprise with its impressive growth in Portugal, having reached the 3rd position in the national top of the real estate business , in just 4 years, quickly approaching the 2nd position.
To achieve these results, KW bases its growth on the Market Centers, which are large Business Centers with more than a hundred real estate consultants in each one, and where the training and support to the consultant are superior to what is provided by a simple real estate agency. Each Market Center belongs to a franchisee, and some franchisees have up to 4 MKCs, as you can see below.
The current network of Market Centers in Portugal (26 Market Centers, 13 Franchisees and more than 2,023 professionals) continues to grow year after year, the objective being to continue to grow in order to cover 75% of the national territory, with a greater incidence in urban areas.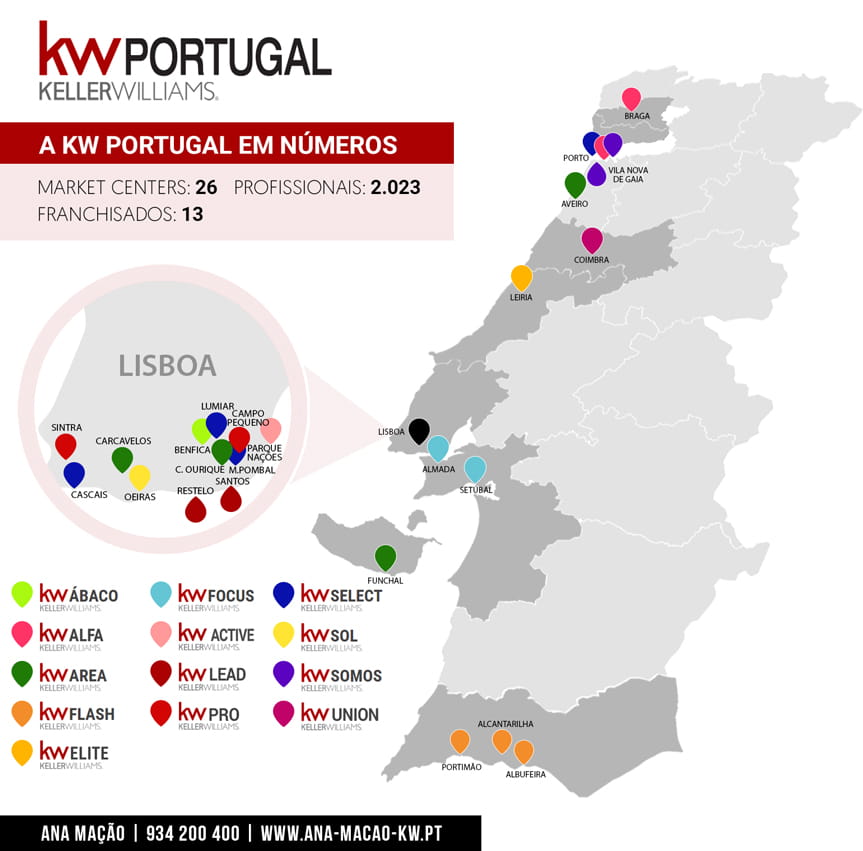 The geographic implantation of Keller Williams Portugal focuses mainly on the coast of the country, however, the activity of each Market Center often exceeds its closest area of influence, and the respective consultants can carry out transactions all over the country.
Nuno Ascensão, CEO of KW Portugal, reinforces the commitment to the growth of Keller Williams in Portugal in the coming years:
We have a very clear objective of making the 50-10-5 vision material:
50 Market Centers, with 10,000 Consultants in Portugal in 5 years.