During the event of the Web Summit 2018, it was announced by the president of CML, Fernando Medina, that in the scope of the agreement signed between the autarchy, the Portuguese state and Paddy Cosgrave - the founder of the Web Summit - expansion works will be carried out at FIL and Altice Arena to welcome the predictable growth of this event over the next 10 years.
According to a statement from the Web Submmit organization:
Part of the deal is to double the size of Altice Arena and FIL over the next three years to respond to Web Summit's growth plans. The start of the first expansion phase of the project will begin in the coming months and will be completed for the 2019 Web Summit.
The first phase of the work will start in the coming months, in order to finish in time for the 3rd edition of the Web Summit, in 2019. In this first phase, priority will be given to taking advantage of the empty space between the current pavilions and in a second phase, construction and expansion of the new pavilions will begin.
The FIL complex includes, in addition to the 4 pavilions of the Lisbon International Fair, which occupy a total area of 40,000 meters, the Sony Square. This is one of the areas that will be used to expand the current Exhibition Fair. On the other hand, Altice Arena is also included in these expansion and remodeling works, and the total area of the two spaces is expected to rise to 90,000 m2, more than doubling the current area.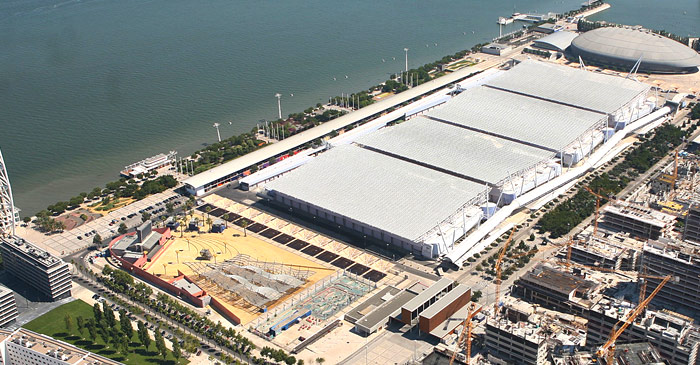 Sony Square was one of the most emblematic spaces of Expo´98, a period in which it was used to host various outdoor musical events. It is located in the northern area of the FIL Exhibition Park and has an area of 15,000 m2.
Additionally, the events of the Web Summit have also been held at Altice Arena, the former Atlantic Pavilion, whose current owners are Luís Montez of the producer Música no Coração and Álvaro Ramos of Ritmos & Blues. According to Fernando Medina:
Remodeling works are being planned for this space, not only to hold the Web Summit but also to attract other large international events, such as the doctors' congress, which moves tens of thousands of people during the "low season."
To finance the expansion works and the annual contribution of 11 million Euros destined to the event - during the next 10 years - funds from the State Budget will be used and the tourist tax charged by the Lisbon City Council (CML) for overnight stays from visitors, which will double from 1 Euro to 2 euros per night as of January 1, 2019.
Fernando Medina believes that this increase in the Tourist Tax will contribute to the growth of annual revenue to an amount above 16 million euros per year.