Keller Williams Inc. announced this week that it has surpassed Re / Max for the first time in sales volume in the United States. This was important in the last quarter of the year, with a record turnover of US $ 72 billion.
The numbers are overwhelming: over 1 million homes sold in the US and more than $ 300 billion in closed deals. These tentative figures, now revealed, were compiled by independent consultant T3 Sixty and confirmed that Keller Williams outperformed Re / Max (in dollar sales volume), which was considered to be the market leader in the US
The graphics speak louder than words and show the trajectory of a success story called Keller Williams! Below we can see the growth in number of consultants, turnover and total of properties sold.
Regarding the number of consultants, the brand's supremacy was already clear, although the growth of the number of consultants in 2017 occurs in counter-cycle with the US industry figures that have even declined during the last year. To this end, international expansion has contributed to reinforcing the trend of overwhelming growth in recent years.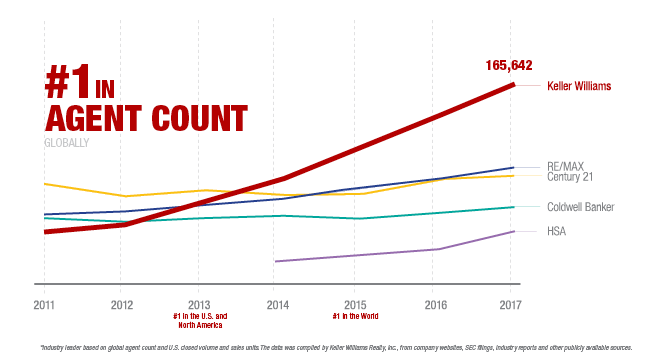 Turning to the volume and number of deals closed, this is the first time this has happened. According to the CEO of Keller Williams, John Davis, a part of this growth is due to the strategy of internationalization of the brand. These numbers just come to give reason that many consider to be a winning strategy of the biggest brand of real estate franchising: Win-Win in which the focus is given to the relationship of the consultant with its clients and the relation of mutual advantage with their clients.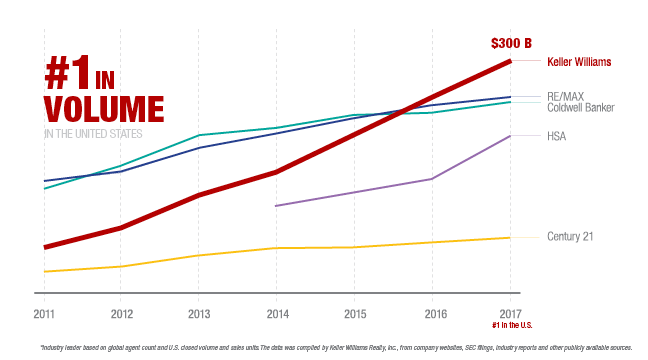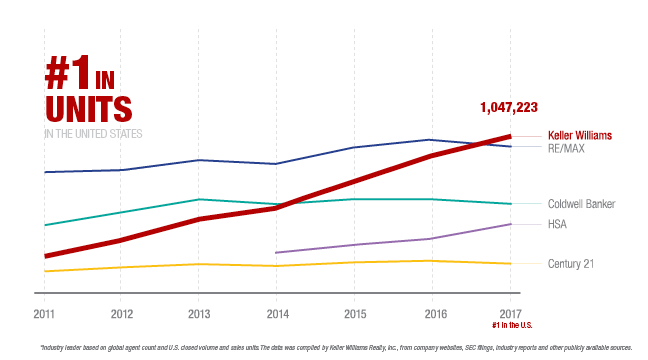 KW-Keller Williams, how it all began ...
Keller Williams, or KW, was founded in 1983 by Gary Keller and Joe Williams in Austin, Texas, with only 32 consultants and is currently active on 5 continents, with more than 165,000 consultants in more than 800 market centers ( franchisees).
It is the brand with the largest number of real estate consultants in North America and around the world and in Portugal it ranked 3rd in the national ranking in only 2 years, counting after 3 years with more than 1500 consultants distributed throughout the continent and Wood.
What about KW Portugal?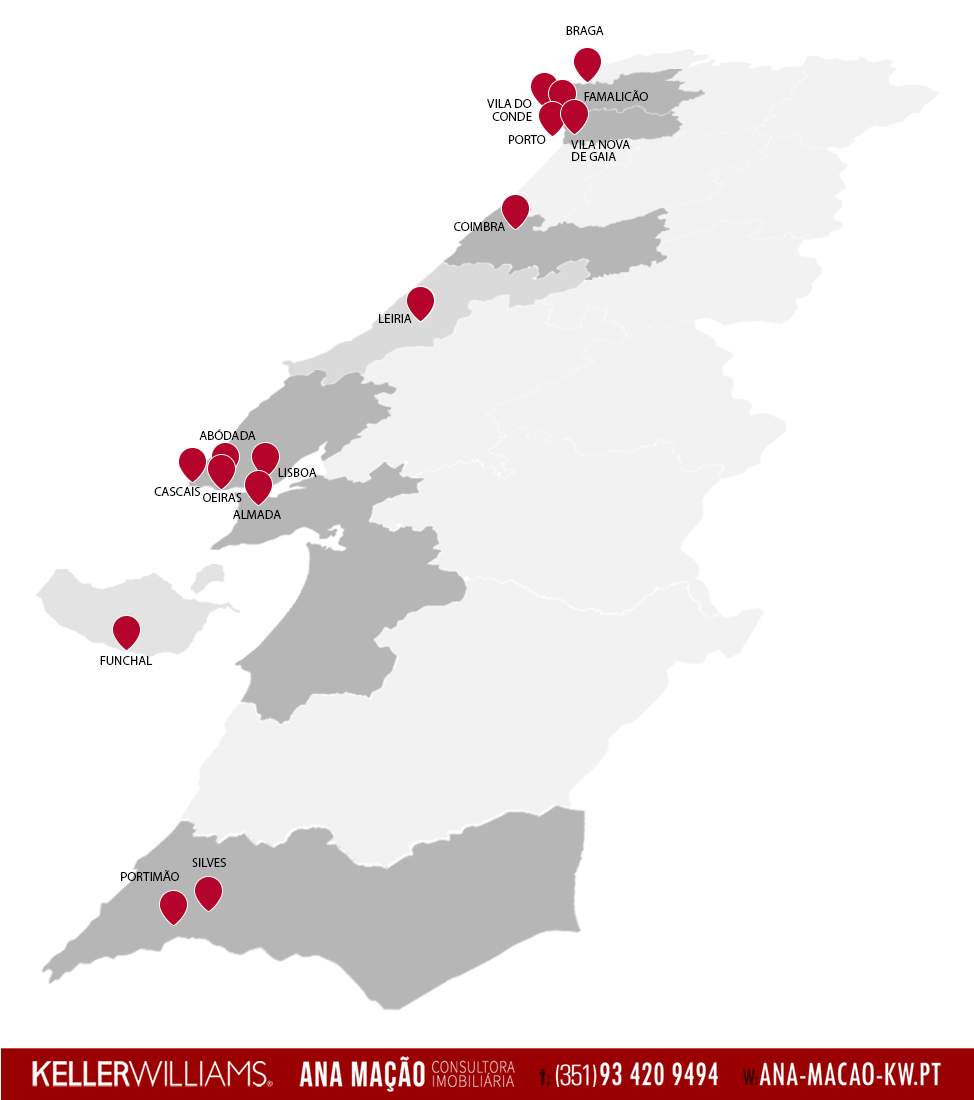 Portugal was the first European country to start the expansion of the Keller Williams brand and the success did not wait. Outside of the North American continent, KW has more than 47 market centers and more than 5900 consultants. Only KW Portugal has more than 1500 consultants and 22 Marker Centers, having ranked 3rd in the number of consultants in only 3 years.
And now, what follows?
The success of KW is not confined to the United States, Keller Williams Worldwide (KWW) - the international division of Keller Williams - started the expansion of the brand outside the United States / Canada and today it is present in 5 continents, regions such as: Portugal; Spain; Turkey; France; Monaco; Greece; UK; Poland; Czech Republic; Romania; Dubai; Israel; China; Vietnam; Indonesia; South Africa; Jamaica; Mexico; Nicaragua; Panama; Philippines; Puerto Rico; Cyprus; Belize; Bermuda; Colombia and Costa Rica.
Why is Keller Williams different from other real estate agents?
The vision and goals with which Gary Keller and Joe Williams shaped Keller Williams go through the construction of:
Careers worth having,
Business that is worth stopping,
Lives that are worth living
To achieve these goals KW is committed to the development of its own tools and models that help the consultant realize the dreams of its clients, but above all, Keller Williams bets strongly on initial and continuous training and this is one of the main reasons because professionals prefer to work with the brand.
In the US in 2017, KW was ranked first: as the company that best bets on training, for the second time in 3 years.
Keller Williams is also one of the most generous companies in the real estate industry as far as the distribution of profits by its consultants and entrepreneurs.

The principles governing Keller Williams' professionals are their main distinguishing mark in real estate, and can be summarized as follows:
Win-Win: either there is agreement. Keller Williams aims to become involved in the sale of real estate, not limiting the benefit to only one party, but to all involved in the transaction. As we say in good Portuguese: "a business is only good if they win both parties".
Integrity: Doing what is right. As a real estate consultant, I am in this activity to help those who turn to my services, the only way to do it without compromising my career is to act in an integrated and honest manner in all transactions where I am involved.
Commitment: valid for everything. When I propose to sell a property, my client knows that my commitment is to the end, I do not look to the means to achieve this end. And that's the reason business in Keller Williams build relationships that last.
Communication: always try to understand the other side. The world is greater than the sight of one person. Communicating and understanding the goals and desires of my clients contributes to the desired success.
Creativity: first ideas, then results. Why follow old and outdated business models when there are new, innovative and proven ones that work? In my activity I bet on new or original ideas that help me achieve success.
Customers: always come first. This is not a business "of accumulation of property or capital." The real estate industry is definitely a business that moves people and lives on people.
Trust: start with honesty. There is not enough room in the world for lies. Honesty will stand up to any storm.This is a fundamental philosophy that accompanies me in each and every part of my life.
Teamwork: Together we do more. When we join Keller Williams, you do not have to walk alone. There are many people who can help us along the journey, "brokers", "team leaders", "colleagues" ... together we form a great team!
Success: Obtained through the importance given to "people". They are the people who in our lives and in the companies contribute to our success. To achieve excellence, we have to surround ourselves with the best, and that is exactly what awaits us at Keller Williams.
My success story can be yours! If you want to know how, check my page and come to work on KW!