Growth Share
One of the advantages of working at KW lies in its remuneration policy, the best in the market , with Growth Share being another way of rewarding the effort and work of real estate consultants.
Growth Share is an extra income that Keller Williams consultants can receive, as a reward for helping to grow KW's network of consultants and respective Market Centers, in Portugal or anywhere in the world, providing:
CAREERS worth having, BUSINESS worth keeping, LIVES worth living, EXPERIENCES worth providing and LEGACIES worth perpetuating!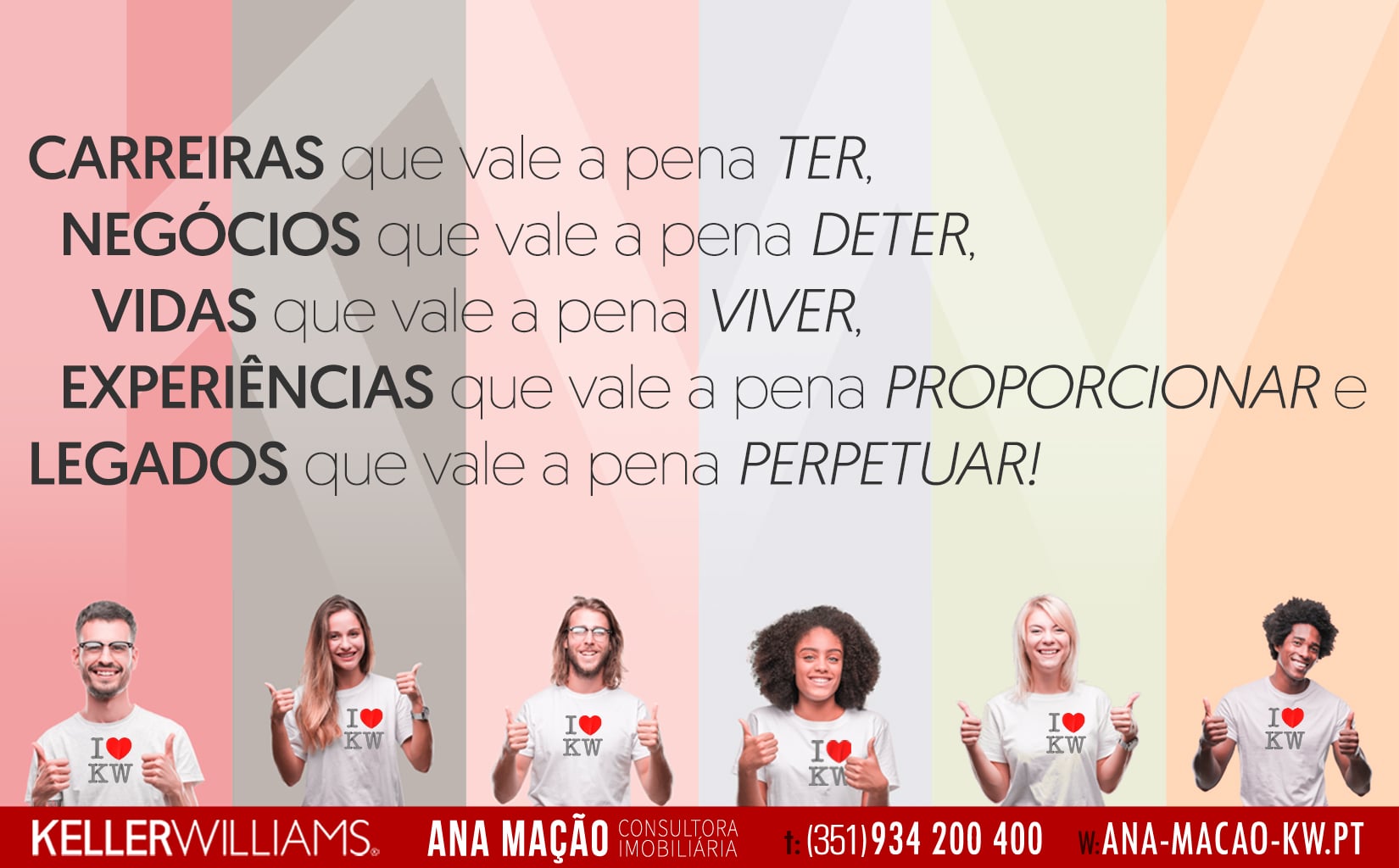 " Legacies that are worth perpetuating! " ... this is the mission of Growth Share! For Keller Williams, its consultants and employees are a fundamental part of the business and as such are treated as shareholders who deserve to be rewarded for the growth of the KW brand and to have a permanent and transferable share in the global profits of the largest real estate franchising brand in the world. world.
For Keller Williams, its consultants and employees are a fundamental part of the business and as such are treated as shareholders who deserve to be rewarded for the growth of the KW brand and to have a share in the global profits of the largest real estate franchising brand in the world . And this position is not the result of chance, but from the unique perspective of its members!
How does Growth Share work?
A real estate consultant - or any Keller Williams associate - who collaborates with a KW Market Center in the recruitment of another consultant, who identifies the 1st as the motivator for your entry into the company, will be designated as Sponsor of the 2nd consultant.
This means that, whenever the 2nd consultant carries out a real estate transaction, part of the commission received will go to its Sponsor . But the possibility of obtaining extra earnings is not confined to this direct relationship: all consultants who may be raised in a chain and in a downward way, will also contribute to the initial Sponsor's Growth Share .
That is, if consultant A is Sponsor of consultant B and this in turn helps to recruit and is designated as Sponsor of consultant C ... and so on until consultant G (7 levels maximum), all these consultants will form a Growth Share tree , thus contributing to generate income for Sponsor A.
How are earnings from Growth Share calculated?
For example: if consultant Carlos is recommended by consultant Ana,   this will be Carlos's 1st Level Sponsor . If Carlos in turn recruits Maria, Ana will be a 2nd level sponsor in relation to Maria, and so on up to a maximum of 7 levels. In other words, the Sponsor consultant will be able to receive remuneration related to transactions from a consultant he does not even know , up to a 7-level descent.The amount the Sponsor receives for each transaction in his Growth Share network depends on the respective level.
At KW Portugal , with some exceptions, the commission charged for each real estate transaction varies between 5% (Center and South of Portugal) and 6% (North of Portugal) calculated on the sale value of each property . For example, if a property is traded in Lisbon for € 100,000, exclusively by a single consultant (without shares), Keller Williams will charge a commission of € 5,000 (+ VAT) for the deal (even if the property has a price below 100,000) € this is the minimum amount charged by KW). In relation to this commission, 2% of this amount (ie 100 €) will be distributed through Growth Share.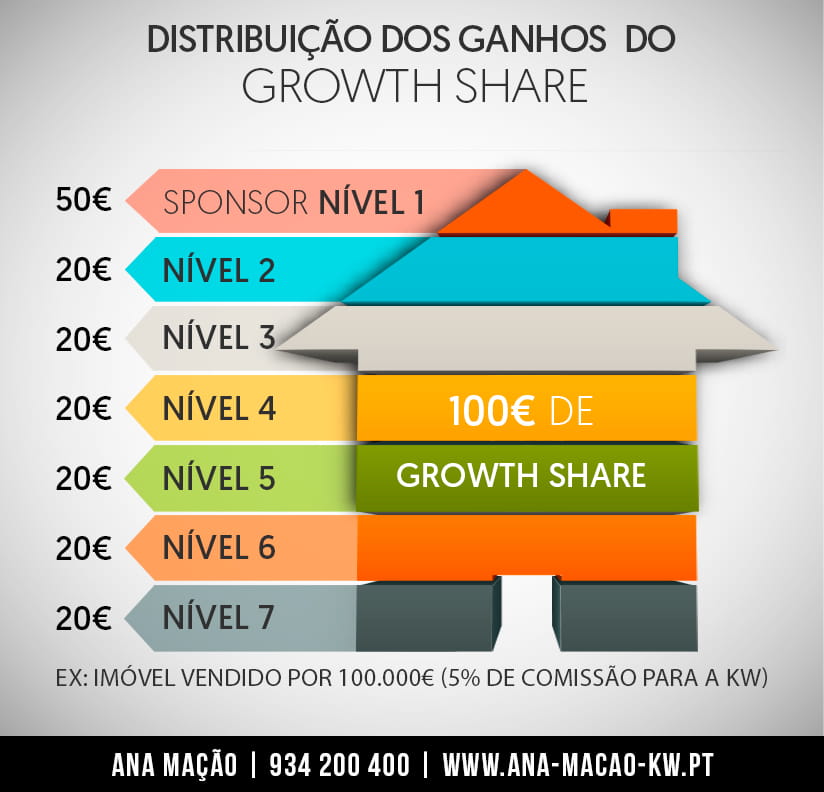 This amount will be distributed among the various Sponsors related to the consultant who carried out the transaction. That is, in this specific case the € 100 will be distributed according to the following table:
1% for the Level 1 Sponsor ;
0.20% for the Level 2 Sponsor ;
0.10% for the Level 3 Sponsor ;
0.10% for the Level 4 Sponsor ;
0.15% for the Level 5 Sponsor ;
0.20% for the Level 6 Sponsor ;
0.25% for the Level 7 Sponsor ;
Growth Share fees are lifelong and transferable
Thanks to this method, you will receive, without extra work, a part of the earnings of all the consultants you helped to recruit and of all the others that are part of your Growth Share tree. These gains become permanent if the Sponsor maintains a connection to KW for a continuous period of at least 3 years. In other words, even if the Sponsor consultant stops working for KW, he will continue to receive, for life , part of the commissions earned by the consultants who are part of his Growth Share Plan!
In the event that the Sponsor dies and if he has acquired permanent access to the Growth Share Plan, KW will continue to deliver the proceeds from this Plan to the Designated Beneficiary (a family member, or another appointed by the Sponsor ). In this way, Keller Williams contributes to create an income that can be passed on to your family or friends after your death.
This is the biggest payoff innovation in the real estate market, allowing Keller Williams consultants to share in the profits they helped KW achieve, without taking any financial risk .
What is the financial volume of Growth Share?
KW Portugal, in the first 3 years, has already distributed over one million euros of Growth Share to its associates, since the beginning of KW's operation in Portugal (about 4 years ago).
Growth Share applies to all Keller Williams associates in the current 39 countries and regions outside the United States and Canada (in these countries the method of rewarding KW's growth is another: Profit Share ). So in the first 6 months of 2019 alone, KW Worldwide distributed almost 1 Million Euros to its associates outside the USA and Canada. In total, 5 Million Euros have already been distributed through Growth Share!
This figure is not yet comparable to the profits distributed in the 2 founding countries through Profit Share (1094 Million Euros since the beginning of the program), since the expansion of Keller Williams outside the USA and Canada started only about 7 years ago years, and there are 5 in Portugal!
Is Keller Williams a "Ponzi Scheme" company?
The terms "pyramid scheme" , "multi-level marketing" , and "Ponzi scheme" are totally incorrect when applied to Keller Williams and it is a recurring confusion that results in large part from the Growth Share incentive described here.
Keller Williams is a company whose services to clients, in the purchase and sale of properties, have nothing to do with Growth Share . This is just a way of adding extra income and rewarding the dedication of its associates to the brand and a way of distributing a part of the company's global income to its employees and family, or appointed friends. As if it were a distribution of profits by its shareholders ...
Careers worth having ...
If you already work in the real estate business, or if you have an entrepreneurial spirit and like to accept new challenges, KW is the company because you always waited ! No one else will be able to offer you support, a good atmosphere among colleagues, ethics and mutual respect, support and training, and the best remuneration policy in the real estate market.
My career at KW Portugal and that of more than 180,000 colleagues worldwide are proof of that! If you are in this spirit and are not afraid to face a challenge that can change your life, find out more on my page: https://ana-macao-kw.pt/en/working-at-kw-keller-williams and contact us me!