Description
In Lisbon, in Avenidas Novas and next to Praça de Espanha, you will find this building in ruins, with approved construction project and license ready to pay .

This is an excellent investment considering the estimated value for the entire area adjacent to the Praça de Espanha.
The building is located on Álvaro de Castro street and is empty and in ruins. The project for the construction of a new building was approved by CML and provides for the construction of 4 fractions :
1 Apartment 4 Bedrooms Duplex;
2 x Apartment T2;
1x Apartment T2 Duplex.
The property also has a garden (belonging to T2 Duplex), a terrace (belonging to the T4 Duplex), storage rooms and garages, distributed over 6 floors as follows:
Piso -1 - Apartment T2 Duplex with Garden (65 m2). 4 Storage rooms pertaining to the 4 fractions;
Floor 0 - Apartment T2 Duplex referred in the previous floor (65 m2). 2 enclosed parking spaces (27 m2). Access to the building;
Floor 1 - Apartment T2 (75.3 m2);
Floor 2 - Apartment T2 (75.3 m2);
Floor 3 - Apartment T4 Duplex (168,3 m2);
Floor 4 - Apartment T4 Duplex referred in the previous floor (168.3 m2). Terrace of Apartment T4 Duplex.
Praça de Espanha
The excellent location of this property near Praça de Espanha, is a great investment because, starting this year and expected ending in 2020, will begin the works of square rehabilitation and the surrounding areas,  being born here a large garden with 5 hectares , larger than the Jardim da Estrela. For that will be built a bridge connecting the gardens of the Gulbenkian Foundation to the center of Praça de Espanha. The project will also "renature the water line", bringing the Rego stream to the surface.
On the other hand, next to Praça de Espanha, will soon be built office buildings and the IPO (Portuguese Oncology Institute) will be expanded , which will lead to an increase in demand throughout this area.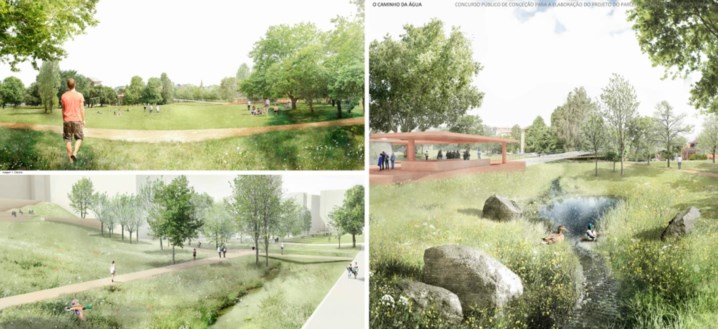 The Praça de Espanha will stop being a large roundabout intersected in the middle by an avenue, the central lanes will disappear, as well as the bus terminal located between the space of the theater "A Comuna" and Avenue Columbano Bordalo Pinheiro. 
The works of this intervention have an expected period of 10 months , plus one year for the maintenance of green spaces.
Surroundings
The privileged location of the property is an element of appreciation both for its proximity to various points of interest and for its integration into a neighborhood that is constantly growing and modernizing. We highlight the following:
Hospital Pulido Valente, Hospital Curry Cabral, IPO of Lisbon, Hospital of Santa Maria and Veterinary Hospital of Berna;
Calouste Gulbenkian Foundation and its gardens (which will grow after the intervention in Praça de Espanha);
Faculty of Social and Human Sciences, NOVA University of Lisbon;
Faculty of Medicine, University of Lisbon;
Secondary School D. Pedro V;
Several restaurants, including the Adega da Tia Matilde, located right in front of the building;
Theaters: A Comuna and Teatro Aberto.;
Supermarkets (Mini Preço), pharmacy and neighborhood shops;
Swimming pool of the Avenidas Novas;
Hotels: Sana Metropolitan, Hotel 3K Barcelona.
Transportation
This area is one of the best served in Lisbon in terms of transport and road access, namely:
Lisbon Metro Station (Praça de Espanha);
Entrecampos train station;
Buses from Carris,

Transportes Sul do Tejo and Vimeca that connect this area to various points of Lisbon and its surroundings;

Aerobus - Line 2 ⇄ Sete Rios - Airport;
Excellent road access: connection to the Second Circular and the North-South Axis, A5 highway, etc.
Do not miss this opportunity and invest in a property with valuation assured. Make a visit now!