Lisbon, has long since failed to satisfy the demand for housing and hence the strong registered growth in the price per square meter in the sale and rental of houses. In 2019, the capital had the highest median price of family housing (3,247 € / m2) , among the 7 cities in Portugal with more than 100 thousand inhabitants and recorded a year-on-year growth of + 7.9% .
This has resulted in new flows in the demand for housing, as has already occurred in other European cities: many property owners take the opportunity to sell their houses in Lisbon and buy or rent property in the peripheral municipalities, taking advantage of the capital gains realized.
Oeiras and Cascais were the municipalities that stood out most recently, in this real estate flow and Oeiras the one that is registering the best performance. Whether with regard to the licensing of new buildings, the number of real estate transactions, or the appreciation of the prices of used houses. On the other hand, in the post-Covid-19 period, Oeiras registered a greater demand and appreciation in Houses and Land for construction and detriment of apartments, in line with the global demand worldwide. This is a change that has come to stay, the house has become a refuge from the pandemic but also the "Office of the Future", with the growth of telework. Today, whoever wants to change their home, gives priority to properties with land, terraces, balconies, an office space or condominiums with spaces for enjoyment and leisure. Below, we can see all these dynamics, with the recourse to the Bank valuation data of houses in Oeiras until June 2020, published by I.N.E.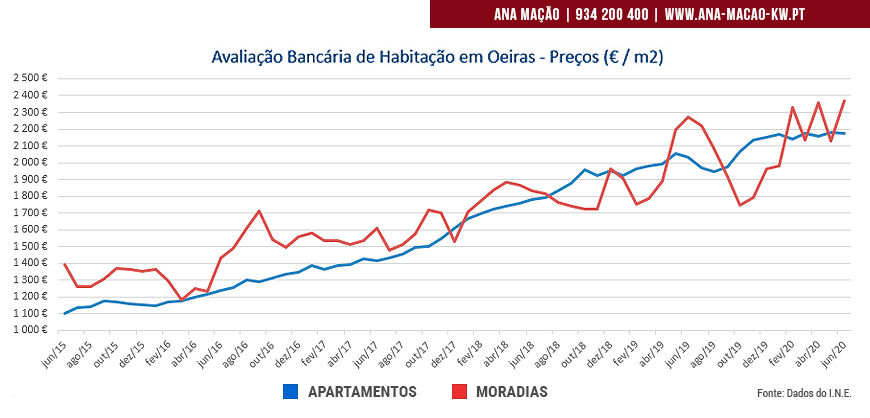 What is special about Oeiras?
Oeiras has followed a path of more than 3 decades of growth and investment, which is now beginning to bear fruit in terms of competitiveness, vis-à-vis neighboring municipalities. The focus on green and leisure areas, business parks, schools and universities has attracted and continues to attract new residents. All of this was taking place with respect for rates of demographic density and urban coherence that we do not find in other municipalities in Greater Lisbon. As a consequence, the growth of the municipality's urban fabric appears to be more balanced, distributed across all parishes and not concentrated only in the village of Oeiras.
Rapid radiography of the municipality of Oeiras
| | | |
| --- | --- | --- |
| | Population | 176,000 inhabitants, of which 10,000 are foreigners (2018), of which 52.6% are women and 47.4% are men. It represents 8.4% of the population of Greater Lisbon. The youth rate is higher than the national average. Actual PDM predicts a demographic growth above 250 thousand inhabitants. |
| | Yield | Average salary of 1.€ 740 (the national average is € 1,170). It is the municipality with the highest per capita income, the 2nd municipality with the highest purchasing power and the 2nd largest municipality to collect taxes in Portugal. |
| | Education | Oeiras has the highest school enrollment rate in the country (30.7% with Higher Education). 12 secondary schools, 6 higher education establishments (António Xavier Institute of Chemical and Biological Technology, Faculty of Human Motricity, Instituto Superior Técnico, Escola Superior Náutica Infante D. Henrique, Universidade Atlântica, Escola Superior de Saúde Atlântica, Academia de Comunicações and NATO Information). It has 4 schools in the top 10 of the 2020 ranking of the best public schools in the district of Lisbon.International Schools complement this offer: Oeiras International School (Barcarena) and International Sharing School (Porto Salvo). |
| | Cheers | 3 Hospitals ( Hospital da Luz Oeiras , Hospital de Santa Cruz , Hospital São Francisco Xavier ); 5 Health Centers ( Oeiras, Barcarena, Carnaxide, Linda-a-Velha, Algés ); 47 pharmacies; |
| | Companies | 5 PolesBusiness: Taguspark , Lagoas Park , Quinta da Fonte , Campus Agrotech and Arquiparque .Oeiras is the 2nd municipality in the country, after Lisbon, with the highest turnover among non-financial companies (data for 2018, + 6% compared to the previous year). 24,223 companies of which 106 are large companies such as: Google, Cisco, Altice, HP, Dell, National Instruments, Colt, Cilnet, Canon, Johnson & Johnson, Pfizer, MSD, GlaxoSmithKline, BMW, Volvo, Nissan, Renault, Fiat, L'Oréal, BP, SIC, TVI, Nike, PepsiCo, etc. |
| | Science and Research | ITQB , IBET , Gulbenkian Institute of Science , INIAV . Altice's new research center in Taguspark is expected soon: Altice Labs . This hub will help to produce technology for 60 countries. |
| | Beaches and Sea | Santo Amaro , Torre , Paço de Arcos and Caxias beaches. There are 2.1 km of beaches, all with Blue Flag, proving the quality of its waters and the entire support infrastructure. Porto Recreio de Oeiras with the marina and its leisure area and the Clube Náutico de Paço de Arcos complement the offer of beaches and invite the practice of sport fishing, canoeing, sailing, bodyboarding, surfing, windsurfing, kitesurfing, volleyball and soccer. Beach. |
The privileged location of Oeiras, next to Lisbon, Sintra and Cascais, is an unbeatable asset.Good road access and proximity to the airport (24 min) complement and make a difference.
Oeiras, a " Family Friendly " municipality
Living with quality is the desire of those who buy a house in Oeiras. And this is what you can find here! The mild and sunny climate, the parks and green areas scattered throughout the county, the public and private schools that stand out in the national ranking, security, sports and leisure facilities, make this the county where families want to live. And reasons abound:
Leisure: Passeio Marítimo de Oeiras (; Fábrica da Pólvora (space of 40 hectares with museum, cultural activities, restaurants, gardens and urban park); Play and Play Spaces for children and families, spread a little throughout all gardens and locations the county;
Gardens - In addition to the Parque dos Poetas (22.5 hectares between Oeiras and Paço de Arcos), Oeiras has 21 gardens distributed throughout the municipality;
Sports Equipment: Golf Course (9 holes, with expansion to 18 in the future), Swimming Pools (Jamor Pool Complex, Oceanic Pool, Sport Algés and Dafundo, Barcarena Municipal Pools; Linda-a-Velha; Outurela / Portela), Equitation (Academia and Centro Equestre João Cardiga), Tennis (Clube de Ténis do Jamor, Clube Escola de Ténis de Oeiras), Football(Jamor National Stadium, Soccer City, Mário Wilson Municipal Stadium), Futsal (Pavilhão dos Leões de Porto Salvo), Sailing and Canoeing (Paço de Arcos Sports Club, Oeiras Maritime and Recreational Association, Sport Algés and Dafundo);
International Schools : Oeiras International School , Sharing International School , Aga Khan Academy (under design), and right next door, in Carcavelos, St. Julian's School e St. Dominic's International School;
Cultura: Oeiras é candidata a Capital Europeia da Cultura 2027 e não lhe faltam motivos: Auditório Municipal Eunice Muñoz, Teatro Independente de Oeiras, Teatro Municipal Amélia Rey Colaço, Auditório Pátio do Enxugo, Auditório Municipal Ruy de Carvalho, Auditório Lourdes Norberto, etc.
Património: Palácio Marquês de Pombal, Palácio dos Aciprestes, Quinta Real de Caxias, Museu da Fábrica da Pólvora, Igreja Matriz de Oeiras, Convento da Cartuxa, Povoado Pré-Histórico de Leceia, etc.; 
Segurança: Portugal é o 3º país mais seguro do mundo;
Oeiras tem Futuro?
Oeiras é um dos concelhos na periferia de Lisboa com maior potencial de crescimento. As razões são várias e que acrescem às já referidas. Entre elas:
The bet, now reinforced through the Oeiras Valley brand, in attracting more scientific and technological-based companies , taking advantage of their business parks, is one of the main reasons. A strong growth of its implantation area is foreseen, namely taking advantage of land still available, eg in Taguspark or thanks to the new Business Park of Porto Salvo (in the detailed plan phase). At Taguspark, LG Electronics inaugurated new facilities, Altice Labs will be born, the new PHC headquarters is under construction, etc.
The offer of International Schools, Oeiras International Schoo l has just opened in Barcarena a new center dedicated to the 1st cycle, in addition to the existing one for the remaining cycles. The international school Academia Aga Khan is currently in the design phase and will be installed on land in Porto Salvo (35 hectares, next to Galp de Oeiras on the A5).
The bet on the requalification of the historic areas of the municipality through the restoration of municipal and national heritage is a reality in progress at: Quinta Real de Caxias , Casa da Pesca , Convento da Cartuxa and National Agronomic Station, Palácio Restani , etc. On the other hand are in the design, study and implementation phase, deep interventions in public urbanism in several parishes, namely Queluz de Baixo, Algés, Linda-a-Velha, Caxias and Porto Salvo through the remodeling of existing squares, as well as the creation of new areas leisure and public enjoyment.
Mobility and transport are one of the main concerns of the inhabitants of Oeiras. This is one of the aspects that will change the most in the coming years in Oeiras.The construction of cycle paths and new road accessibility is an ongoing reality that can be consulted
It should also be noted that works aiming at road decongestion as well as the construction of cycle paths across the entire municipality are in the design phase.
From the real estate point of view, new projects are also planned (some at an advanced stage, others under public discussion), which will bring about new dynamics in terms of urbanization and tourism and leisure activities:
Requalification of the riverside area between Pedrouços, Lisbon and Cruz Quebrada. This is a project that has the support of the Government and aims to give a new life to these areas that link Lisbon and Oeiras to the Tagus River.