Caderneta Predial
A Caderneta Predial

Urbana, ou Certidão Matricial, é um documento documento de identificação para qualquer prédio, rústico ou urbano, constituído em propriedade horizontal

(constituído por mais do que uma fração) ou não, susceptível de pagamento do IMI

 - Imposto Municipal sobre Imóveis

. É emitido pela repartição de finanças

e identifica a localização, o(s) proprietário(s), composição, características e valor tributável do imóvel e comprova a situação regularizada da matriz.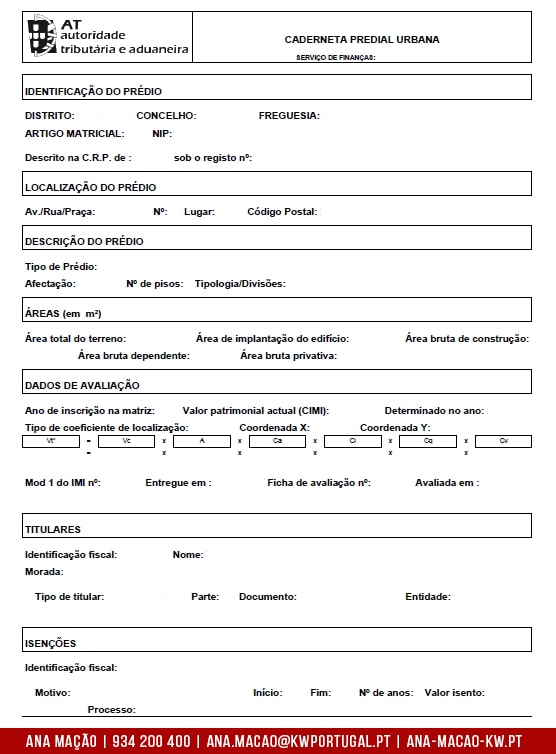 Caderno Predial, what is it?
The Urban Building Certificate , or Matrix Certificate , is a document issued by any finance office - free of charge - for all buildings constituted in horizontal property (more than a fraction) or not, subject to IMI

payment - Municipal Property Tax . It certifies the ownership of a building and its characteristics, as well as the regularized situation of the headquarters.
In the Building Register , the description of the building, its location and identification, the data relating to the evaluation of the building, the evaluation data of the building for calculation purposes are included in the property or fractions (apartments, shops, etc.) of taxes, location and elements of the autonomous fractions, the holders and the information regarding the tax exemptions.
---
What is it for?
The Building Ticket is used to support the processes of sale of a property (it is mandatory to present it at the time of the deed of sale or, in its replacement, the Certificate of Content);
For the conclusion of water and electricity contracts;
Development of urban planning processes;
For all processes where it is necessary to obtain information about the building and / or its owner (s), such as: the number of the matrix for the preparation of real estate contracts, pledge contracts and sales, etc .;
For determination of the IMI , which is calculated according to the VPT - Tax Patrimonial Value of the building or of the autonomous fraction inscribed therein.
How to obtain the Land Registry?
You can get the Building Book at any Finance office if you know the matrix number. It will suffice to present your Citizen Card;
Or through the Finance Portal , using your access code.
What is the Validity?
The Building Certificate is valid for 12 months and may be updated.